Welcome to Park Michigan Community Page!
At Park Michigan, we want you to stay connected. Use this community page to view and post announcements, events and read the bulletin board!


Learn about the RentCafe App!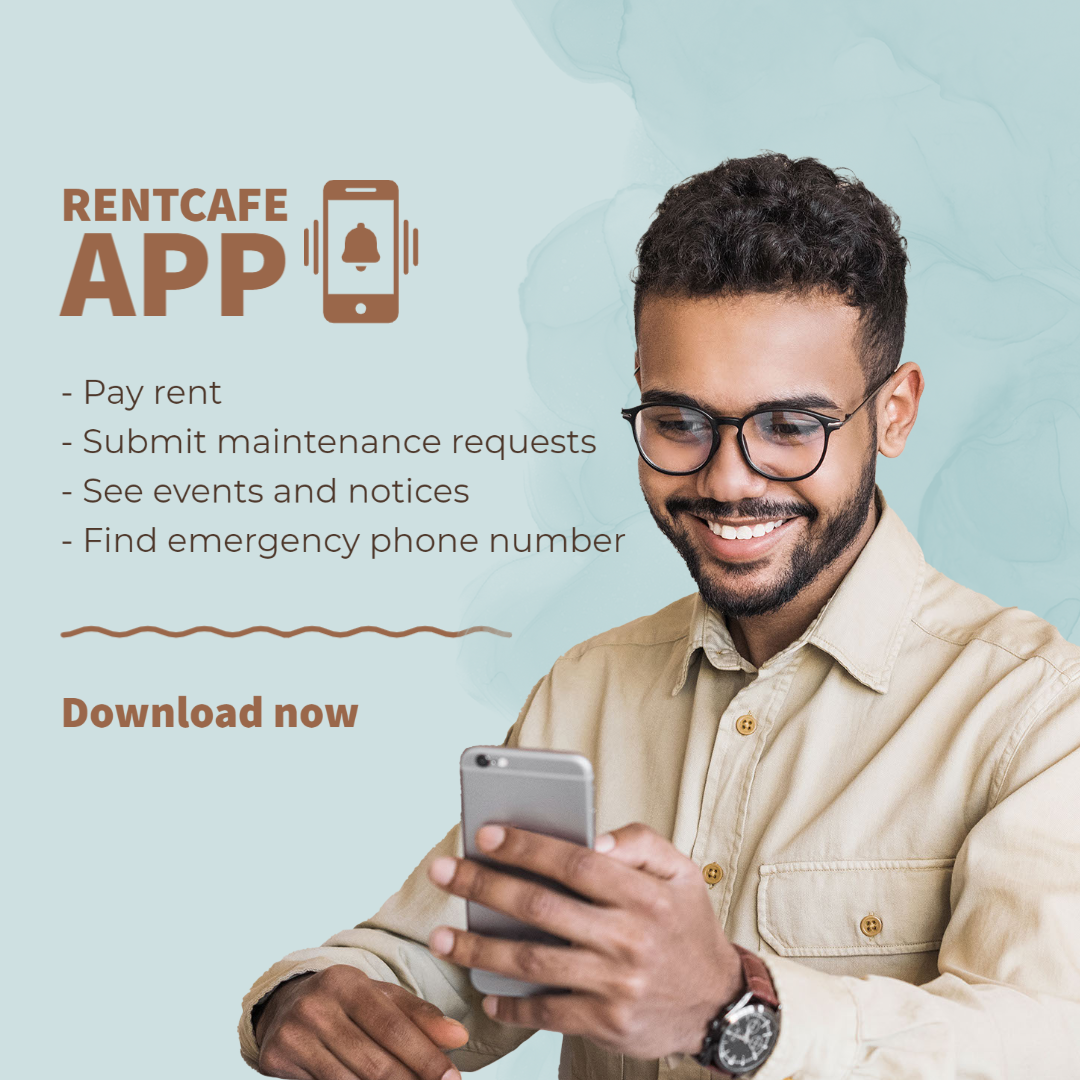 Download RentCafe Resident application, and log in with the same credentials you use on your desktop web browser. You can still access everything you need on the desktop web browser if you prefer. The app provides ease in uploading pictures and voice messages for maintenance requests, as well as providing the emergency phone number at your fingertips.


Hi, I have a large chair with an ottoman I need picked up today it's free. If interested text 563-639-9074. Thanks I live in 306

(0 comments)

Taylor Watkins

|

November 30, 2023

(0 comments)

Hi all! I live in apt. 306 we have a cute gray wood kitchen table with 4 chairs and a black 4 tier bookshelf we don't want. We are moving this week so anyone that comes and can get it. ITS FREE! Thanks. Please comment below if you would like to come and grab it. Please text me 563-639-9074 need gone before Friday

(0 comments)

Taylor Watkins

|

November 27, 2023

(0 comments)

Hi all! I live in apt. 306 we have a cute gray wood kitchen table with 4 chairs and a black 4 tier bookshelf we don't want. We are moving this week so anyone that comes and can get it. ITS FREE! Thanks. Please comment below if you would like to come and grab it.

(4 comments)

Taylor Watkins

|

November 26, 2023

(4 comments)

Hello everyone. I am looking to take over someone's lease from end of February/beginning of March until May/June as sublease. I am looking for preferably studio or 1 bedroom. If you are looking to sublease your apartment, please message me @ 213 905 9166. Thank you,

(0 comments)

Jihun Park

|

November 19, 2023

(0 comments)

Selling jewelry box. Pleather and acrylic. 7.89"D x 9.1"W x 5.3"H. Bought for $51.99, selling for $30. In good condition. Text 312-882-6021 for pictures/interest in buying.

(0 comments)

Younjoo Sang

|

November 15, 2023

(0 comments)

Hi everyone! I'm looking to sell an Epiphone Les Paul Special II electric guitar w/ an amp and travel bag and a switch lite! I'm selling the guitar + speaker + travel for 250$ and the switch for 100$. You can text 952-994-3782 if you have any questions, or would like to see pictures!

(0 comments)

Rowan Keenan

|

November 11, 2023

(0 comments)

Flor Morales and Alex Chav. You dropped your cards at the front desk. Left it with the security

(0 comments)

Richard Amoateng

|

November 10, 2023

(0 comments)

Hello everyone! I am looking for someone to sublease my 1bd 1bath corner layout apartment from December - May 30th. $1800 per month, please let me know if you or anyone you know would be interested! Feel free to message me or text: 4195757286

(0 comments)

Andrea Wertz

|

October 23, 2023

(0 comments)

Hello everyone! Looking for a female roommate to share a 2b2b space at the earliest. If you or anyone you know is interested, feel free to reach out on 6177497166.

(0 comments)

Ruchika Kheria

|

October 9, 2023

(0 comments)

Hey everyone! Does anyone have a drill bit that I could borrow? I have a quick project that I don't think warrants buying a brand new drill set. Thanks!

(0 comments)

Manyi-Eyong Ayuk

|

October 7, 2023

(0 comments)

Looking for a cleaning lady if anybody has somebody they recommend please let me know!

(0 comments)

Jordan Goodrich

|

October 5, 2023

(0 comments)

Subleasing Studio for November. My lease ends on December 06, 2023, but I will move out by the beginning of November. Looking for sublease the studio unit for one month. Please contact 323-286-3117 if you are interested :)

(0 comments)

Andy Ding

|

October 4, 2023

(0 comments)

For Sale: Dell Inspiron 15 5579 2-in-1 Laptop Specifications: • Model: Inspiron 15 5579 2-in-1 • Processor: Intel Core i7-8550U CPU @ 1.80GHz (Turbo up to 2.00 GHz) • RAM: 16.0 GB • Operating System: Windows 10 Home • System Type: 64-bit OS, x64-based processor • Display: No pen or touch input • Service Tag: BNJXQJ2 • Express Service Code: 25368814478 Condition: • Cosmetic condition is fair. • Functionally sound but needs a battery replacement. • Originally purchased around late 2017. Included Extras: • Original charger • Free Logitech keyboard • Free Dell mouse Price: $250 Notes: • This laptop has been well taken care of and comes with a powerful i7 processor and 16GB RAM, ideal for multitasking and daily tasks. Please be aware that the battery will need replacement by the new owner. The price reflects this and is negotiable. Contact: Jin • Email: [email protected] • Phone: 224-322-7882

(0 comments)

Jinendra Manoj Sanghvi

|

September 22, 2023

(0 comments)

Last free items available (everything else has been claimed): A 96' inch TV stand (low profile, wood) and a metal queen bed frame. Please let me know if you want either of these. They are free.

(0 comments)

Ronak Amin

|

September 22, 2023

(0 comments)

Is anyone subleasing their apartment from 10-1 to 10-22? One of my friends is traveling to Chicago for work, and wanting to live close by. Please text me at 605-252-1826 if you are subleasing your apartment during that period. Thanks, Medy

(0 comments)

Shujie Xu

|

September 15, 2023

(0 comments)

free glass and black metal shelf - perfect condition, 2 tiers 317-474-4572 - text only plz

(1 comments)

Kristen Edens

|

September 14, 2023

(1 comments)

Selling 2 tickets to Hamilton in center loge ( widely considered best seats in house) purchased on presale so great price as well. Sunday 7:30pm. Text for details 5709057995

(0 comments)

leah goldberg

|

September 12, 2023

(0 comments)

Free Furniture: Hello, I still have some free furniture items available: Small Leather Sofa, Wood Coffee Table, Wood TV Stand (up to 96' TV), Two Bar Stools, Two Night Stands and a Wooden Rolling Bart Cart. will be at the unit this Friday, the 15th between 1pm and 3pm. Please contact me at [email protected] to arrange any pick up.

(1 comments)

Ronak Amin

|

September 11, 2023

(1 comments)

IKEA white KALLAX shelf unit (3x4) for $100. Great condition. Comes with one 2-drawer insert and one insert with door for free. original price: $180 Text if interested : 312 394 0704

(0 comments)

|

September 10, 2023

(0 comments)

Giving away two small rolls of doggie waste bags I got at PAWS 5K for free

(0 comments)

Ke Xin SHEN

|

September 9, 2023

(0 comments)

IKEA KALLAX shelf unit (3x4) for $100. Like new condition. One insert with 2 drawers and one with door comes for free. TEXT: 312-394-0704

(0 comments)

anny

|

September 9, 2023

(0 comments)

Hi All! IKEA KALLAX white 12 unit shelf for $100. Like new condition. One insert with 2 drawers and one insert with door bundled for free. Price is firm. Total value: $180 Text if you are interested :) 312-394-0704 https://www.ikea.com/us/en/p/kallax-shelf-unit-white-10409932/?utm_source=google&utm_medium=surfaces&utm_campaign=shopping_feed&utm_content=free_google_shopping_clicks_Store_and_organise_furniture https://www.ikea.com/us/en/p/kallax-insert-with-2-drawers-white-70286645/?utm_source=google&utm_medium=surfaces&utm_campaign=shopping_feed&utm_content=free_google_shopping_clicks_Store_and_organise_furniture https://www.ikea.com/us/en/p/kallax-insert-with-door-white-20278167/?utm_source=google&utm_medium=surfaces&utm_campaign=shopping_feed&utm_content=free_google_shopping_clicks_Store_and_organise_furniture&region_id=137575563407595073147499981139106742272

(0 comments)

anny

|

September 9, 2023

(0 comments)

Selling 2 loveseats. One is a pullout the other is IKEA. Both in good condition. Message me if interested. Open to offers.

(0 comments)

David Capasso

|

September 8, 2023

(0 comments)

Large dark wood cabinet of good quality for $25, almost 6ft tall. Text 309-360-6435 for questions or photos of the cabinet.

(0 comments)

Kaydra Bui

|

September 5, 2023

(0 comments)

free blue leather smoking chair! superficial surface scratches that can probably be covered with polish, but otherwise a great chair - 317-474-4572 for pictures

(0 comments)

Kristen Edens

|

August 29, 2023

(0 comments)

Hi! Any tennis players in the building interested in hitting? Text me 580-821-0993

(0 comments)

Anna Purdom

|

August 28, 2023

(0 comments)

Quench the heat with a refreshing glass of lemonade available in the lobby. Park Michigan Management

(0 comments)

Monika Krawczyk

|

August 23, 2023

(0 comments)

FREE ITEMS -black glass/metal tv stand, 44l x 22w x 20h, good condition -black 3-drawer bed stand, 21x21x30h, very sturdy but has some scuffs -bike rack for sedan, new -red mountain bike, needs a tune up but sturdy frame -coffee maker, great condition Reply here or text (602) 619-0074 if you would like pictures, needs to be picked up by end of day Wednesday8/23 (I can help carry item to your unit if needed) :)

(2 comments)

Hannah Gervais

|

August 21, 2023

(2 comments)

1bd 1bt apartment (lake face 29th floor) available for sublease starting in September 2023 through May 2024 with flexible moving date. Rent is $1790+$80 services, . Please contact me if you are interested. [email protected]

(0 comments)

Muthyalamma Gangula

|

August 17, 2023

(0 comments)

Free Furniture I have the following furniture available at no cost: -Leather Sofa Loveseat -Rolling Bar Cart -Wood Coffee Table -Queen Bed Frame (metal) -Night Stand Tables (2) (bottom drawers don't work well) -TV Stand (fits up to 96 inch TV) -Bar Stools (2) Please email me at [email protected] to coordinate pickup. Unfortunately, I cannot be available to show anything - please just let me know if you'd like a photo.

(0 comments)

Ronak Amin

|

August 14, 2023

(0 comments)

Hi, It would be great if someone who has a pet can lend us their vacuum cleaner for an hour today. I don't have a pet and need it just for a single use. I will bake you some brownies in return! :D Please contact- 2172003081

(0 comments)

Shabeeha Ahmed

|

August 13, 2023

(0 comments)

2-inch memory foam mattress topper, very recently purchased, tried for 1 night, wasn't for me. Selling at $25 (purchased at $59.99). Text 312-882-6021 if interested.

(1 comments)

Younjoo Sang

|

August 12, 2023

(1 comments)

55in Amazon Smart TV for sale, $50 OBO, email me at [email protected]

(0 comments)

Margaret Piltz

|

August 12, 2023

(0 comments)

FREE QUEEN FOAM MATTRESS AND PLATFORM BEDN - 2 YEARS OLD, GREAT CONDITION. MUST GET RID OF BY 10 AM TOMORROW. Please text me for details at 712-520-3553

(0 comments)

Kristen Powell

|

August 8, 2023

(0 comments)

Selling LG 32" TV with Roku device and remote for $150. Tv stand $50. Very good condition. Text 7018851861 for pictures

(1 comments)

Aastha Bhatia

|

July 29, 2023

(1 comments)

Desk, desk chair ($65) need gone by Monday! Bed and bed frame ($50$ need gone by Monday - 6102031358

(1 comments)

Amandeep Grewal

|

July 29, 2023

(1 comments)

Hello!! Relatively new to the city of Chicago and got a recent electric bill that was ridiculously high at $196... We are currently using Comed and not sure if that is the average with this building. But we are looking for recommendations for other options regarding electric with reasonable rates. Thanks in advance for the help.

(2 comments)

Alexander Eatrides

|

July 28, 2023

(2 comments)

Selling a set of black and gray bar stools (leather seat), black 2 drawer shoe cabinet (I currently have 8 pairs of sneakers held in it), white 3 cube wood storage shelves and a silver ikea floor lamp. $25 a piece. Email me at [email protected] if interested and I can provide pictures

(0 comments)

Margaret Piltz

|

July 26, 2023

(0 comments)

Selling: Wifi router NETGEAR AX1800 $40 OBO 45L rectangular trash bin $10 OBO Coffee grinder $10 OBO (used less than 10 times) All items have been cleaned and photos available per request. Only used for 1 year. Please pick up by Sunday, July 30th. Text me at 805-637-3681.

(0 comments)

Marlene Maeusli

|

July 26, 2023

(0 comments)

Selling Queen size mattress and bed frame for $150 good condition. Comes with sheets and mattress cover if you'd like. text me at 331-215-2234 for pictures/details.

(0 comments)

Michael Chew

|

July 24, 2023

(0 comments)

Selling a mocha geometric book case that has never been opened for $200. It's 50.2" x 49.2"W x 8.9" D (62 lb) Really aesthetically pleasing. Message if interested! Email if interested [email protected]

(0 comments)

Keisha Odunze

|

July 20, 2023

(0 comments)

Selling large Monstera Deliciosa (~5ft tall from ground up). Needs a new loving home. Largest leaf is approx 40cm (15.7in). Selling for $200. Also selling White IKEA Brimnes 3 doors wardrobe (H 74 x W 46 x D 19 3/4in) for $150. Small scratch side panel. Txt me at 317-441-0738 if interested

(0 comments)

Meghane Masquelin

|

July 17, 2023

(0 comments)

Selling 2 floor lamps (2 for $150 or 1 for $100), 1 desk lamp for $20 text (331)-215-2234 for pictures. Open to offers as well

(0 comments)

Michael Chew

|

July 15, 2023

(0 comments)

Office chair, desk, rug and coffee table for sale. All office furniture is from Amazon Office chair- $90 Desk- $50 (without plants) 121cm length x 65cm width x 71cm height Rug- $20 Coffee table from IKEA- 40 No smoking and pet free household. Need to go by July 26. Prices are negotiable.

(0 comments)

Sagar Vani

|

July 8, 2023

(0 comments)

Brown Leather Twin seat recliner for Sale. Price $60. Full Size Gel Foam mattress for Sale. Price $40. Prices marked to sale. Please text me on 6304613573 for the photos.

(0 comments)

Gaurav Sharma

|

July 2, 2023

(0 comments)

Moving sales, all items are used and available for picking up by the end of next Sunday (July 9). Price for each selling item is negotiable, price marked to go. 1. futon sofa bed (can be open as a full size bed), --- black faux leather, in good condition, $50 2. four shelf book case--- one creamy, one brown, --- $80/each 3. 27' 4 k ThinkVision computer monitor --- has some defect, some lines in the left and upper side of the screen, the rest portion of the screen look fine. ---- $50 4. 24' Dell U2412MB, 1920 x 1200, in good condition, --- $50, if you wish, a cable connecting HDMI (computer port) to DVI/VGA (display/monitor port) is free for buyer. 5. 55' Samsung 4k smart TV, has original box --- $250 6. WINIX D480 TRUE A AIR PURIFIER, with original box and 2 new filter, good for your health --- in good used condition, --$80 7. Office chair ---grey color-- in very good condition, lightly used, $100 8. Twin size bed mattress --- only used for a few times--- $50 9. Full size bed frame --- $50, may need dissembling and assembling 10. Full size bed mattress --- $150, please buy the bed frame if you would like to purchase the mattress. 11. Miroco LED Floor Lamp with 5 Brightness Levels & 3 Color Temperatures, 1815 Lumens, Adjustable LED Floor Light, Dimmable Reading Standing Lamp for Sewing Living Room Bedroom Office--- very good condition, just used for a few times, after bought it in last fall. Interested buyer, please contact me at [email protected] (or call Shirley at 917-995-6159) to schedule a time to look at the item(s) or/and pick up. Serious buyer please, cash only. Thank you for looking at the ads.

(1 comments)

Min Liu

|

June 28, 2023

(1 comments)

Frigidaire Window Air conditioner 5000 BTU for sale. Comes with original box. Hardly used. Contact at 7737085042 if interested.

(0 comments)

vidhi mittal

|

June 26, 2023

(0 comments)

Donner DEP-20 Beginner Digital Piano 88 Key Full Size Weighted Keyboard, Portable Electric Piano with Sustain Pedal for sale, includes seat and stand.

(0 comments)

Mario Axel Amezquita Lucio

|

June 19, 2023

(0 comments)

Selling a office desk, office chair, two dressers, shoe rack, sofa, coffee table, and stand alone mirror. Please contact me at (610) 203-1358 if you are interested.

(0 comments)

Amandeep Grewal

|

June 16, 2023

(0 comments)

Free full sized mattress. A few years old. Smoke free home. Contact me at (563) 676-6746 if interested. I can send pictures as well.

(0 comments)

Maddie Weyeneth

|

June 5, 2023

(0 comments)

Selling: Walnut Color TV Stand from Wayfair (Like New) -Purchased new from Wayfair 6 months ago for $132. Selling for $75. -No scratches. Like new. Pet free smoke free home. -L: 43.5 in W: 16 in H: 20 in. -Pick up in the building. Moving so needs it gone soon. -Please feel free to message me at 314-484-6678 with questions. -Link with pictures: https://www.facebook.com/marketplace/item/6263738487025140/

(1 comments)

Tiange Zhang

|

June 1, 2023

(1 comments)

Giving away bags of cat litter(wood pallets) for free. DM if interested.

(0 comments)

Jiewen Wu

|

June 1, 2023

(0 comments)

I have clothes that plus size from 1x-3x I'm selling for $10 and under still new with tags call Diamond 7739707592

(0 comments)

Georgia Morrow

|

June 1, 2023

(0 comments)

Hi do any one needs a full size mattress it's just the mattress I'm selling it for $70 still new please call Diamond 7739707592

(0 comments)

Georgia Morrow

|

June 1, 2023

(0 comments)

If anyone wants a Black futon Sofa bed, do let me know. It's around 70 inches wide and in good condition My number: 7732364168

(0 comments)

Raphael Onwunali

|

May 31, 2023

(0 comments)

Moving out mid June. Selling tv+tv stand $80, couch $20, glass coffee table $20, queen bed+bed frame $50. Rug, wall decor, office chair, office table & more to give away. Email: [email protected] for details

(1 comments)

JillG

|

May 28, 2023

(1 comments)

Trying to get rid of my couch for cheap. It is sturdy and also works as a pull out sofa bed. L: 86 in, W: 35 in, H: 36 in. Please text 314-484-6678 for more details. Thanks.

(0 comments)

Tiange Zhang

|

May 27, 2023

(0 comments)

Free nightstand available! I need it gone by Sunday morning, so please message if you're interested.

(0 comments)

Samantha MacGavin

|

May 27, 2023

(0 comments)

Do you sew? I have yards of material (beautiful colors - around 3 yards per color) . I also have 6 (1.5 - 2yards) of fleece for blankets. *** FREE** I no longer have time to sew like that so I want to donate. It's yours if you can take possession by Sun 5/28 at the latest. Email me at [email protected]

(0 comments)

gwendolyn purifoye

|

May 25, 2023

(0 comments)

FREE ELECTRIC GUITARS! Yes, that's right folks! Step up and receive a free guitar. Ha! Forgive my cheesiness. I need to get rid of my two electric guitars ASAP. They are an Epiphone Les Paul Modern (worth $650) and an Ibanez AS73 Semi Hollow Body (worth $450). I will NOT ask for money. I will also include an amp (first come first serve on this one) and cables, and other accessories. Please text me your name and interest. I will be in Chicago next week to give the guitars to you personally. My number is 305-987-1203. Thanks!

(0 comments)

Clay Valarezo

|

May 24, 2023

(0 comments)

Free twin xl mattress and queen mattress for $120 available. Need to go asap. Please contact for more details

(0 comments)

Anusha Bhallamudi

|

May 22, 2023

(0 comments)

FREE twin xl mattress available need to go asap. Queen mattress available for $120. Please dm to 3128687055 for more details

(0 comments)

Anusha Bhallamudi

|

May 22, 2023

(0 comments)

If anyone else is trying to get rid of the couch this week, please let me know.

(2 comments)

Raphael Onwunali

|

May 22, 2023

(2 comments)

Free couch - material is in great condition, just purchased in December. There is a pop up bed that needs the support beam repaired. Need gone by Friday

(3 comments)

Kristen Edens

|

May 15, 2023

(3 comments)

Looking for unwanted boxes! I'm moving at the end of the month and will gladly take any moving boxes off your hands.

(3 comments)

Samantha Walsh

|

May 14, 2023

(3 comments)

Did you happen to get a decorated red mailer that wasn't really for you? The building can't find it and USPS delivered it in the 3rd. I only found out today when my Aunt checked to see if I received it. I am in 2709. Thanks for checking.

(0 comments)

Stephanie Butler

|

May 12, 2023

(0 comments)

Selling a bunch of furniture, need gone ASAP- nightstands, vanity, rugs, etc. Email [email protected] for specifics.

(0 comments)

Meredith Greer

|

May 8, 2023

(0 comments)

Hello, did anyone mistakenly receive the package to unit 806 on May 5th? I received a delivery notification from my carrier and a message from the building, but couldn't find my package.

(0 comments)

Sung Min Lee

|

May 5, 2023

(0 comments)

Selling our 6.5ft Christmas tree with lights on it already as well as a skirt and star all for $30! let me know if you're interested in taking it! my number is 631-836-0949

(0 comments)

Sandra John

|

May 4, 2023

(0 comments)

Giving Away Flexispot H1B H2W H2S Standing Desk. Hand Crank 30" x 48" surface. Good condition, need it gone by Saturday. email [email protected] or text 831-255-9792 if interested.

(0 comments)

Ryan Hatcher

|

May 4, 2023

(0 comments)

SAD SOCKS: An unintentional sock swap occurred today! One long gray sock got swapped with my grey-and-teal sock. The orphan I picked up has been left in the laundry room for pickup. Feel free to comment here if you know anything about my missing half! Wishing a happy ending for all socks, CjR

(0 comments)

Carlee Reber

|

April 28, 2023

(0 comments)

Did anyone mistakenly receive a package for 1202 on or after March 2nd? The building has been emailing me I have a package to pick up, but it wasn't there when I went to get it. I wasn't expecting anything, but a friend is saying he sent me something.

(0 comments)

Katherine Vasquez

|

March 7, 2023

(0 comments)

Spacious 1 bed/1 bath south loop apartment with amazing view of Lake Michigan, navy pier and grant park! Looking for a sublet from April 1st to July 2nd 2023, the apartment number is 2810 Including building amenities and gym membership the rent is 2152(negotiable) Kindly reach out to Prasad Iyer for additional details Contact number:7326927472

(0 comments)

Prasad Iyer

|

March 2, 2023

(0 comments)

Hi! I'm Alex, moving in April but wanted to get ahead and selling my 2 seats dinning table, bought it in December so it's basically new… Text me if interested! 224 625 0224 Btw… I'm also giving my vacuum cleaner for free if someone wants to have it!

(0 comments)

Erik Silva Rojas

|

February 20, 2023

(0 comments)

Hi folks! I'm moving in with my partner and need to find a home for my full sized mattress and bed frame. It's less than 2 years old and has been mattress protected the whole time I've had it. I'm happy to give it away to anyone who might have a use for it! Please let me know! [email protected]

(0 comments)

Ashley Miller

|

February 18, 2023

(0 comments)

Selling my Self Cleaning Litter Box. It's a ScoopFree by Petsafe COVERED Self-Cleaning Second Generation Cat Litter Box. I also have THREE Unopened Litter Trays that I will throw in for free. Retail Value for Cat Box: $199.95. I am looking to get $100 for the Litter Box. Lmk if you interested I can send pics of it. Text me: 402-214-7676

(0 comments)

Easton Dippel

|

January 31, 2023

(0 comments)

Moving out by end of month. Selling my couch ($80), lunch box ($10), hanging door mirror ($10), D link Router ($20), TCL 32" Roku TV with wall mount($55). I also have extra dishes and glasses I'm giving for free, if interested you can contact to get what you like If interested text me: 3123838545 https://www.facebook.com/marketplace/item/691607415739303/?mibextid=6ojiHh

(0 comments)

Kajal Goraya

|

December 22, 2022

(0 comments)

Anyone else interested in getting a COMPOST bin in or near our building? I'm happy to take the lead getting a Block Bin (https://www.blockbins.com/) but need to know other residents would contribute enough to make it worth it. Let me know in the comments! :)

(0 comments)

Carlee Reber

|

December 18, 2022

(0 comments)

Hi, I am moving out next week and selling the following furniture - - full-size bed frame and mattress ($125 total for a 10-inch, Zinus green tea memory foam mattress + frame, originally ~$350) - small working desk ($20) - tall bar table ($30) - Ashley furniture XL loveseat ($50) Everything is in great condition, no pets, no smoking, just selling it as I am moving to a bigger apartment and do not need this.

(1 comments)

Yashashree Watkar

|

December 15, 2022

(1 comments)

I am moving out by end of December and I am selling pieces of furniture

(3 comments)

Kajal Goraya

|

December 4, 2022

(3 comments)

Hi all, If any one happens to be selling their dresser/ clothes drawer, please let me know I would be interested in acquiring it off you.

(0 comments)

Raphael Onwunali

|

November 26, 2022

(0 comments)

I am planning to move out on Wednesday, and have a couch that would be free if you can pick it up! Pictures attached. Some scratches on the frame.

(2 comments)

Dane Yamashiro

|

October 23, 2022

(2 comments)

Moving out early November and have a few items I am not taking with me. Everything is about 3 years old and in decent condition. Open to prices! Feel free to text 586 258 6181 for additional details if interested! Available for pick up Nov 8-11. Dining table and 2 chairs TV stand Queen bed frame and mattress and night stand Couch - lightly stained Dresser with 6 drawers

(1 comments)

Shivani Tank

|

October 17, 2022

(1 comments)

Moving out early November and have a few items I am not taking with me. Everything is about 3 years old and in decent condition. Open to prices! Feel free to text 586 258 6181 for additional details if interested! Available for pick up Nov 8-11. Dining table with 2 chairs TV stand Queen bed frame and mattress included and small night stand Couch - lightly stained Dresser with 6 drawers

(0 comments)

Shivani Tank

|

October 17, 2022

(0 comments)

Hi all! I am helping somebody move in next week or so and looking for some cardboard boxes/moving boxes. I saw a lot of people have moved in recently -- if anyone is getting rid of some - let me know. Happy to take them off your hands!

(0 comments)

Kristen Powell

|

September 12, 2022

(0 comments)

Feel free to pick all of these items…moving out this Friday, October 1. If interested send me a text or call at 631-805-2307.

(0 comments)

Sandeep Guntaka

|

September 27, 2021

(0 comments)

Free moving boxes!

(0 comments)

Heather Sayre Jordan

|

September 27, 2021

(0 comments)

Hi! Parting ways with several items as we're moving out of the city at the end of July. Everything is in really good condition and I also have all the instructions/tools to take the pieces apart and put them back together if needed. If you or someone you know might be interested, text me at 952-465-4941. Open to prices! Items: Lamp x2, Bedside Table x2, Coffee Table, Couch, Vizio 43" Ultra HD, Sony 46" HDTV, Entertainment Center, Desk, Chair, Bed, Bed Frame

(0 comments)

Christopher Morris

|

June 30, 2021

(0 comments)

Hi all! We have moved out of our apartment and have some furniture that we decided not to take with us. If anybody is interested in any of it for free you would need to pick it up in next 2 weeks), please let us know, otherwise we'll throw it out: Pictures below. Things include: Two dressers (solid wood, though a bit aged). One bookshelf One Round diner-style table One Desk (and an office chair) One mirror One panel room divider One bed frame + full box spring + full memory foam mattress Some misc small things (lamps, garbage cans, etc.)

(0 comments)

Cosmin Deaconu

|

January 23, 2021

(0 comments)

Selling this smart tv & remote! Best offer, great condition. Let me know if you'd like more pictures or information. 7082187854

(0 comments)

Amanda Martinez

|

January 15, 2021

(0 comments)

Hello neighbors! I was wondering if anyone would be willing to look in on my mini lop bunny between December 23rd and January 6th or know of anyone who might. I'm going home to my family's and traveling with him is difficult and stressful for him. Traveling with him is my last resort option. Essentially, all that's required is checking in on him once a day or every other day and feeding him, making sure he has water and that he's alive. I'm more than happy to compensate as well! If you're available and interested you can text/call me at 651-261-4852. Thank you!

(0 comments)

Katelynne Fulford

|

December 14, 2020

(0 comments)

Selling a black leather memory foam sofa for $50 or best offer. Super comfortable comes with a sofa cover and easily fits 3. Please feel free to text me for pics and if you're interested in checking it out! 9892934691

(0 comments)

Humza Baig

|

December 3, 2020

(0 comments)

Following items are available for sale:- Photos Link - https://imgur.com/a/QdOcqNB 3 Dell 24in IPS Monitor (Like New Condition) - P2419H for sale - $100 each. FREE Business Multimedia Keyboard with wrist rest with purchase of all three. Dining Table with four chairs - $40 - It has some signs of use but it is fully functional 3 Study Desk - All three for $100 1. White study desk with side drawers - $50 - https://www.facebook.com/marketplace/item/1536212819896161/ 2. Mahogany colored desk has some blemishes on top - $30 3. Desk with glass top - $40 Bookshelf with 4 bookends - $25 4 Standing lamps - all 4 for $45 1. 5 bulbs Standing lamp (option to take the bulbs at no additional cost)- $20 2. other three - $10 each (pics coming) Lots of house plants - https://www.facebook.com/marketplace/item/195033912195377/ https://www.facebook.com/marketplace/item/396042581445601/

(0 comments)

Kartik Singh

|

November 22, 2020

(0 comments)

Hi I have a Galileo twin size bed (frame+box+mattress) to sell for $50. it is in very good condition and rarely used 'coz I got my queen size bed just before receiving it. Also I have an IKEA poang chair with ottoman for $50 together to sell. It is in good condition and very comfortable as a reading chair. Please feel free to text 2167027088 if you are interested or want to take a look.

(0 comments)

Asheema Govil

|

November 7, 2020

(0 comments)

Looking to sell a few items before I move: white floor lamp ($25), canvas wall art ($25), queen sized platform bed frame ($75), and tv ($50)

(0 comments)

Monica Palese

|

October 31, 2020

(0 comments)

FREE DOG TRAINING!! Hi! My name is Marisol Arredondo, and I recently graduated from UIC in 2019 with a Bachelor's in Disability. I am a resident in the building and currently in the process of becoming a service dog trainer. I want to expose myself to all types of dog breeds and would love the opportunity to train your furry friend for FREE! My only requests are that the training continues at home during and after the program and to receive your critical feedback to improve on my training. The training would be focused on fundamental obedience, and the duration of training will be determined upon initial contact. If you'd like to learn more about me beforehand, have any questions about the training process, or are interested in my free program, please reach out to me via email: [email protected] or text me at (708)915-0874. The help you and your furry friend provide me would be greatly appreciated! Please be aware that I will be taking a select few dogs on a first-come, first-serve basis, so if you are interested, please reach out soon. Thank you!

(0 comments)

Marisol Arredondo

|

October 26, 2020

(0 comments)

Free lamp! Text 7082187854 to pick up if interested

(0 comments)

Amanda Martinez

|

October 8, 2020

(0 comments)

I am selling a couch, coffee table, entertainment unit, farm table, and 2 leather chairs. The couch is from Crate & Barrel and is less than a year old. 1 seat is detachable for easy moving. $500 The coffee table and entertainment unit are from Ikea, and are less than a year old and in great condition. $50 for the coffee table, $120 for the entertainment unit or $150 for the pair. The Farm table is homemade and is a few years old. $225 Each chair is $40 or $60 for the pair. All prices are negotiable. Text me at 706-449-2261

(0 comments)

KEVIN NIEMI

|

September 27, 2020

(0 comments)

Hi! I am subleasing my one bedroom unit, available October 10-January 28. Rent + parking + utilities (not including electricity) is normally $1,880 but I am offering the sublease at $1,480/month! If you're interested/want more info contact (630) 965-7466.

(0 comments)

Toni Marie Ebbole

|

September 26, 2020

(0 comments)

Hello, I'm looking to sell my queen sized platform bed, 12" green tea memory foam mattress and loveseat. They are in great condition and I need to sell them before the first week of October. Trying to sell the bed+mattress together for $400 and loveseat for $150 but prices are negotiable! Text me at 814-883-0335 if you are interested.

(0 comments)

Asheema Govil

|

September 22, 2020

(0 comments)

one chair, two shelves (desk height) and mirror. All free come and take them. reply if interested. Moving out

(0 comments)

Eric Johnson

|

September 11, 2020

(0 comments)

Moving out so sell some of those. Queen size bed + support = $120 Cooking pots = $10 for each Adjustable hanger = $20 Table + chair = FREE Trash can = FREE clean sweeper = FREE please contact 312-572-5299(text) Last day to pick up: Sep 20th Thank you guys so much :)

(0 comments)

Yunying Huang

|

September 5, 2020

(0 comments)

Hi! looking for some furniture mainly, twin bed frame, dresser and other things for livinng room. If anyone is moving out and wilingl to sell/give away furniture for free, please contact me at 831-600-5983.

(0 comments)

Chanakarn Hraymanee

|

August 30, 2020

(0 comments)

Ironing Board and Laundry Sorter Combo with wheels. Perfect for apartment living. Iron board hardly used. Selling because of upcoming move. Condition: Like New Dimensions: 31 X 16.5 X 33 inches Price: $35 Contact: 504-346-9408

(0 comments)

Sowmya Viswanathan

|

August 27, 2020

(0 comments)

Ironing Board and Laundry Sorter Combo with wheels. Perfect for apartment living. Iron board hardly used. Selling because of upcoming move. Condition: Like New Dimensions: 31 X 16.5 X 33 inches Price: $35 Contact: 504-346-9408

(0 comments)

Prassanth Lakshminarasimhan

|

August 27, 2020

(0 comments)

Bought this set at 500$. Selling for 150$ Fair condition as shown on photos. One of the leg of the Chaise Lounge felt off and Im unable to attach it with the screw anymore. However, the leg still hold up well/you still can still on it no problem if you don't move it. I am moving out by August 30. Please text me at 415-316-6767

(0 comments)

Trang Phung

|

August 24, 2020

(0 comments)

Hello all! I am looking to sublease my lake-facing studio apartment on the 17th floor. I'm looking for someone to move in around 10/1. The lease is up 7/20/2021. I'm looking for someone to pay what I pay for the unit which is $1538/mo. + $70 maintenance fee. Although I would be willing to cover one month's rent for someone reliable and negotiate. I just moved into the unit last month so it is all freshly painted and they took out the carpet to put in brand new hardwood floors. Plus the unit has a huge walk in closet. I also have some furniture which is in near-perfect condition that I am trying to get rid of (memory foam mattress, queen bed, couch etc.) I can definitely provide pictures+pricing if anyone is interested and even have someone come look at the apartment in person. If you know of anyone looking to move into a great apartment, feel free to text me at 814-883-0335.

(0 comments)

Asheema Govil

|

August 21, 2020

(0 comments)

I am subleasing furnished studio apartment located on 13th floor with view of Wabash Ave. Rent: $1534.00 plus $70.00 for utilities. I am willing to sell all my furniture. Furniture includes sofa bed, full bed, nigh stand, TV, 2 bar stools, tv stand, computer desk and chair. Price can be discussed for them. Please email me at [email protected] if interested.

(0 comments)

Mariana Lima Miranda

|

August 12, 2020

(0 comments)

Does anyone have a monthly parking spot you're not using and would like to rent out? I want a monthly parking spot for the next couple of months but not sure I want to commit to renting it to the end of my entire lease which is another 15 months. Thanks!

(0 comments)

Mae Fitzpatrick

|

August 10, 2020

(0 comments)

Hello, selling two lamps for $40 each. Purchased two months ago for $75 each. Brand new condition but not in box. Email [email protected]!

(0 comments)

Kaely

|

July 29, 2020

(0 comments)

Hello All Residents!!! Car Abandoned will be Towed!!! Please move away your gray Toyota Corolla with plate BV 30382, that is parked in front of the loading parking back door, it has been sitting there for all day and all night and we can't do any move-ins for other residents. There are towing signs posted. You always need to check with concierge to get permission to park there. Your car will be towed please respond. Thank you

(0 comments)

JON Gardocki

|

July 29, 2020

(0 comments)

Moving sale: pick on on 15floor only tomorrow (18th). See in picture: Cozy sofa + IKEA table = $30; IKEA table in black: $10. More things giving for free: new bottle, cups; pot. Please message at 314-229-8048. Thanks!

(0 comments)

Jiayi Xu

|

July 18, 2020

(0 comments)

FREE reclining leather couch and love seat. Not in bad condition or anything, I am just moving and will no longer have room for them. Please text me at (402) 803-0866 if interested in one or both!

(0 comments)

Jordan Redler

|

July 15, 2020

(0 comments)

Furniture includes a [complete queen-size bed + mattress & box] ($300), dresser + mirror ($150), nightstand ($50), tall mirror ($20), coffee table ($75) , L-sofa ($350) , office desk + chair ($150), 4 standing lamps ($60), and a kitchen stool ($35), in addition to some decorative hangings ($25)... 773 396 6452 Abed

(0 comments)

Dalaal Jaber

|

July 8, 2020

(0 comments)

I am subleasing a furnished studio located on the 6th floor with a view of Wabash Ave. I am offering it for the price I pay: $1491.00 plus the monthly $70.00 service fee. Also, can sell furniture separate for $1500.00. The furniture includes a queen-size bed, dresser w/ mirror, 2 nightstands, tall mirror, coffee table, L-sofa, office desk + chair, 4 standing lamps, and a kitchen stool, in addition to some decorative hangings. Ideally looking for an individual who will both sublease and purchase furniture for $1,500. Studio is available July 7 and has 6 month lease left... Call/text 773 396 6452 if interested, thank you!

(0 comments)

Dalaal Jaber

|

June 30, 2020

(0 comments)

Hi, selling a 14" Serta Masterpiece queen-sized mattress for $400 (flexible). It's fairly new and one of the best mattresses I've owned, I'm just looking to switch to a king. If you or someone you know might be interested text 952-465-4941. Mattress Specs: https://www.macys.com/shop/product/closeout-serta-masterpiece-albert-14-luxury-firm-mattress-queen-created-for-macys?ID=5236719

(0 comments)

Christopher Morris

|

June 28, 2020

(0 comments)

Black leather sofa. Super comfortable. Available for $150 (negotiable). Includes a sofa cover. If interested, please text me at 9892934691 for pictures.

(0 comments)

Humza Baig

|

June 24, 2020

(0 comments)

Queen bed frame with mattress and box spring is available for $250 (price is negotiable). If interested, please text/call me at 631-805-2307. Attached are the pics.

(0 comments)

Sandeep Guntaka

|

June 22, 2020

(0 comments)

Hello! I have a brown sofa chair/recliner that I'm giving away for FREE. Text 510-303-8337 or email [email protected] if interested. I'm unable to upload pictures with this post, but see my previous post on 6/7. Thanks!

(0 comments)

Karen Chan

|

June 14, 2020

(0 comments)

UPDATED TO FREE!!! We are looking to get rid of a couple pieces of furniture ASAP. 1: Brown and Orange Rocking Recliner. 2: 3-Seater Sofa with 2 pillows, 3'W, 2.5'H, 7'L. The sofa has a little upholstery wear and tear on some of the seat cushions but is still perfectly functional. BOTH FREE. The website is not letting me upload pictures for this post, so please see ADAM MILLER POST FROM JUNE 3 for images. If interested, please email [email protected] or TEXT at 847-271-0002.

(0 comments)

Adam Miller

|

June 13, 2020

(0 comments)

Hello! Moving sale, prices negotiable: Ikea Brusali desk ($20), Computer chair ($15), Side table 17'' x 17'' x 19'' ($10), Full size mattress and box spring ($80), Box fan ($5), Bookshelf - shelves adjustable ($15), Floor lamp ($10), Sofa chair/recliner ($40). Please email [email protected] OR text at 510-303-8337. Thanks!

(0 comments)

Karen Chan

|

June 7, 2020

(0 comments)

Hi! Selling furniture (desk, chair, couch, cat items) from now until July 30th. Here are the SLIDES link if you want to click on the online descriptions of the item https://docs.google.com/presentation/d/16090c6NRnFHG4KtwOfEKY_nv1BWntlNpQSD-1v54Qq4/edit#slide=id.p Text 312-468-3102 -Located on Floor 12 -You Haul -Pickup on Saturday Mornings only

(0 comments)

Yu chuan Lin

|

June 7, 2020

(0 comments)

Hi there! I have some furnitures to sell or giveaway. Swiss ball give away ! Almost new Ironing board + Iron to sell ; Chest of drawers for sale ; Bedside table for sale as well. Email [email protected] or TEXT at 312-572-9299.

(0 comments)

Yunying Huang

|

June 6, 2020

(0 comments)

Hi there! We are looking to sell a couple pieces of furniture ASAP. 1: Brown and Orange Rocking Recliner ($15). 2: 3-Seater Sofa with 2 pillows, 3'W, 2.5'H, 7'L ($25). The sofa has a little upholstery wear and tear on some of the seat cushions but is still perfectly functional. Will sell BOTH for $20. Please email [email protected] or TEXT at 847-271-0002.

(0 comments)

Adam Miller

|

June 3, 2020

(0 comments)

I am subleasing my furnished studio located on the 6th floor, with a view on Wabash Ave. I am offering it for the price I pay: $1491.00 plus the monthly $70.00 service fee. I am willing to sell the furniture for $1500.00. The furniture includes a queen-size bed, dresser and its mirror, nightstand, tall mirror, coffee table, couch, disk, office chair, 4 standing lamps, and a kitchen stool, in addition to some decorative hangings. See attached pictures. For those interested, email [email protected].

(0 comments)

Dalaal Jaber

|

June 1, 2020

(0 comments)

I'm selling a kitchen table (42"x42") and 4 matching chairs for $150. I'm open to negotiating the price. Email [email protected] if you're interested.

(0 comments)

Sabrina Huq

|

May 26, 2020

(0 comments)

BIG furniture giveaway. Hand-made vintage night stands that can double as stools. Free to a good home. Needs to be picked up by 6/3. Please text me at 515-231-8966 and we can arrange a time. Dimensions: 11 x 15 x 21

(0 comments)

Garth Strohbehn

|

May 23, 2020

(0 comments)

BIG furniture giveaway. Lightweight computer workstation, no frills, no drawers. Keep your workstation efficient. Free to a good home. Needs to be picked up by 6/3. Please text me at 515-231-8966 and we can arrange a time. Lamp is free, as well. Monitor/computer not for sale. Dimensions: 24 x 32 x 24

(0 comments)

Garth Strohbehn

|

May 23, 2020

(0 comments)

BIG furniture giveaway. Ottoman and chair combination - lightweight but very comfortable! Free to a good home. Needs to be picked up by 6/3. Please text me at 515-231-8966 and we can arrange a time. Dimensions: Chair: 25 x 27 x 31 Ottoman: 20 x 18 x 15

(0 comments)

Garth Strohbehn

|

May 23, 2020

(0 comments)

BIG furniture giveaway. Sturdy TV stand with extra storage, surprisingly lightweight. Free to a good home. Needs to be picked up by 6/3. Please text 515-231-8966 and can arrange a time. TV available as well, price negotiable. Dimensions: 35" x 18" 26"

(0 comments)

Garth Strohbehn

|

May 23, 2020

(0 comments)

BIG furniture giveaway. Lightweight and low-profile coffee table with additional basket storage capacity. Supports the weights of multiple legs! Free to a good home. Needs to be picked up by 6/3. Please text me at 5152318966 and we can arrange a time. Couch available as well. Foreign currency and coasters going with me, however. Dimensions: 19" x 32" x 14"

(0 comments)

Garth Strohbehn

|

May 23, 2020

(0 comments)

BIG furniture giveaway. Standing kitchenette table with three stools, great for breakfast, working, and, if we're being honest, tossing the mail on when you get home. Free to a good home. Needs to be picked up by 6/3. Please text 515-231-8966 and we can arrange a time. Dimensions: 24" x 34" x 36"

(0 comments)

Garth Strohbehn

|

May 23, 2020

(0 comments)

BIG furniture giveaway. Leather sofa, very comfortable for napping and lounging. Free to a good home. Needs to be picked up by 6/3. Please text 5152318966 and can arrange a time. Dimensions: 37" x 37" x 89"

(0 comments)

Garth Strohbehn

|

May 23, 2020

(0 comments)

BIG furniture giveaway. Lightweight shelves, perfect for stacking. One or both are free to a good home. Please text 515-231-8966. Needs to be picked up by 6/2.

(0 comments)

Garth Strohbehn

|

May 23, 2020

(0 comments)

Do there happen to be any dogwalkers in the building, or do you have any recommendations for reasonable dogwalkers in the area? Looking for one once my company sends us back to the office. Thanks!

(0 comments)

Mae Fitzpatrick

|

May 21, 2020

(0 comments)

Hi, I am trying to sell almost new Ikea Queen size bed frame ($50) and table ($40). Please text me at 2246598620 if you are interested. Thanks!

(0 comments)

Wenyu Ma

|

May 21, 2020

(0 comments)

Selling black, wooden shelf / case (3'w x 32"h x 1'd). Plexiglass top for wine cork top. $15, needs to be picked up by 5/25. Text 828-244-7663.

(0 comments)

Alexandra Young

|

May 15, 2020

(0 comments)

Give away sofa!! Please let me know if you want it! Text: 605-252-1826

(0 comments)

Shujie Xu

|

May 15, 2020

(0 comments)

Selling black, wooden shelf / case (3'w x 32"h x 1'd). Plexiglass top for wine cork top. $15, needs to be picked up by 5/25.

(0 comments)

Alexandra Young

|

May 15, 2020

(0 comments)

Hi, I'm selling this brand new Cuisinart coffee maker. Its still in box. $60. Also I'm selling 8 square shaped tall glasses for $20. Email me at [email protected]. Thanks!

(0 comments)

April B

|

May 10, 2020

(0 comments)

Hello, I am looking to sell a shoe rack that hangs on the door. I only used a part of it since I didn't have enough shoes, so I rest of it is still unpacked. Please reply to this post or text me at 605-252-1826 if you are interested...

(0 comments)

Shujie Xu

|

May 10, 2020

(0 comments)

Hi, trying to ask if any one needs a shoe rack that hangs on doors for $10...It is very new and I only used half of it, the rest is still unpacked. Please reply to this post or text me at 605-252-1826 if you are interested :)

(0 comments)

Shujie Xu

|

May 10, 2020

(0 comments)

Selling a 6' x 6' book case / room divider. In great condition, $30. Text me at 828-244-7663 if interested.

(0 comments)

Alexandra Young

|

May 8, 2020

(0 comments)

Selling book shelf / room divider, 6' x 6', $30. Text me at 828-244-7663 if interested.

(0 comments)

Alexandra Young

|

May 8, 2020

(0 comments)

I am seeking a set (2) dining/kitchen chairs. They are dark wood with silver legs. Gently used. $35 for 2. Please contact me at [email protected]

(0 comments)

Maggie Lassar

|

May 7, 2020

(0 comments)

Weird request, but I'm desperate, haha- anyone willing to lend me a set of golf clubs (I left mine back in Philly over the winter)? The courses that are open aren't providing rental sets and I really need to get out of the house. I can pay a rental fee and also clean the clubs and grips and everything after the round. I am a 12 handicap and won't damage the clubs. Please let me know, thanks. Steve - (610) 716-7269

(0 comments)

Steve Kosloski

|

May 6, 2020

(0 comments)

Hello! Looking to sell this set of vintage dining chairs as soon as possible. $10 per chair or $25 for all 4. Please email at [email protected] or TEXT at 847-271-0002.

(0 comments)

Adam Miller

|

May 4, 2020

(0 comments)

FREE furniture update with more pics and info. Here is what is still available, must pick up by late Wednesday night, May 6th: 7'x9' like-new dark teal and beige rug (no pets, no smoking, barely used), 6'x6' black bookshelf, PERFECT for studios as a separator for the sleeping area, and a medium brown cabinet, perfect for extra pantry storage or other storage needs. Also, a dark brown dining chair that can be used as a desk chair, a like-new, large, red throw pillow, and a silver floor lamp. Please text Shara at 215-307-6951 to claim any or all of these items, for FREE. Cheers!

(0 comments)

SKM

|

May 4, 2020

(0 comments)

Hi! FREE furniture now through May 6: very large bookcase, designed especially for studio apartments to separate bed area, dark brown desk, dark brown bookcase, dark brown chair, medium wood cabinet, great for extra pantry storage , and a perfect condition aqua and beige lattice-pattern rug (pet-free and smoke-free home, and often away), as well as a few other things. Must pick-up by Wednesday evening, May 6th. Please text Shara at 215-307-6951 if you'd like more pictures or more details.

(0 comments)

SKM

|

April 29, 2020

(0 comments)

Hi all, I'm selling a sleeper sofa ($140) and a dining table ($40). Both are from Ikea and in good shape, except for two small dents on the dining table. Pictures below. Please text me at 262-664-5969 if interested!

(0 comments)

Bria Kaufman

|

April 25, 2020

(0 comments)

Hey All - First, thank you to everyone who donated to get food for the staff. This past week, lunch and dinner was provided on Monday and Friday from Urban Counter and Aurelios. Everyone was very appreciative and I told them it was from the residents to say thank you. There's enough funds to provide food next week Monday and Friday again. If possible, I'd like to try one more round of raising funds. We'll do what we can. Can you please can share this gofundme on your social media pages? https://www.gofundme.com/f/1z4bpd8z1c?utm_source=customer&utm_medium=copy_link-tip&utm_campaign=p_cp+share-sheet Thank you everyone.

(0 comments)

Raji

|

April 18, 2020

(0 comments)

Project Runway Limited Edition 110-Stitch Sewing Machine with Automatic Needle Threading - $170 Used only twice! Gabi (312)882-9987

(1 comments)

Luis Eduardo Wright Flosi

|

April 16, 2020

(1 comments)

Free furniture. A big couch and a bed and a bookshelf. All for free. Plz contact me if you need. APT2701 email me [email protected] Or 3127991537

(0 comments)

Jianghua He

|

April 14, 2020

(0 comments)

I'm moving out by the end of this month. All furniture for free. A big couch and a bed,a chair and a small book shelf. Good for all free.Apt 2701. Plz contact me if you need.

(0 comments)

Jianghua He

|

April 14, 2020

(0 comments)

Looking for desk/office chair . Let me know if u have a gud deal.

(0 comments)

Ranjith Kumar Chittibabu

|

April 10, 2020

(0 comments)

Hello Park Michigan residents. I've started a gofundme page to show appreciation to our front door, maintenance and cleaning crew who still come into work everyday. This money will bring in lunch and dinner twice a week. Mondays and Fridays. I'm happy to work with anyone in the building or ok to do the work myself. I'm in 1408. Name is Raji. Text or call me if you're interested in working together. 248-703-9470. Contribute if you can and Please Share this on your social media pages to get enough funding to do this for the next few weeks. Thank you all. https://www.gofundme.com/f/1z4bpd8z1c?utm_source=customer&utm_medium=email&utm_campaign=p_cf+share-flow-1

(0 comments)

Raji

|

April 10, 2020

(0 comments)

SUBLET 1bed/1bath corner unit $1705 with option to renew 7/1/2020. Contact me call/text 815-342-1572

(0 comments)

Ashley Zarattini

|

April 6, 2020

(0 comments)

1 $50 desk/table and 3 $20 drawers/nightstands. Pictures included here. If interested email me at [email protected] or call/text 510-725-8925

(0 comments)

Jerel Dawson

|

March 30, 2020

(0 comments)

SUBLEASE 2-BEDROOM and 2- bathroom available April 3, 2020: $2,368 for 9 months to lease duration (6/1/2021) with option to renew. 2nd Floor right across from the Laundry Room. Reason for moving: I am going back to my home country until further notice . If interested, please contact me at 3128267801 or email [email protected] Thanks.

(0 comments)

Muna Abdulla K Ah Al Sulaiti

|

March 26, 2020

(0 comments)

Couch with recliners for sale $100. It has to go by this Saturday, you can call/text at 631-805-2307 for more info.

(0 comments)

Sandeep Guntaka

|

March 25, 2020

(0 comments)

do anyone want an $100 ebay gift card? if anyone's interested, please let me know and contact me on (773) 470-5397

(0 comments)

Hugo Nugraha

|

March 8, 2020

(0 comments)

Hi All, looking for a dog walker specifically for March 14th (and potentially additional dates). Jackson is an energetic, loving pup and I'll be out of town that day. Open to setting up a meet and greet prior to. Please contact me at 828-244-7663 or [email protected]

(0 comments)

Alexandra Young

|

February 28, 2020

(0 comments)

Free IKEA table with screw on legs. Super light weight. Email me: [email protected]

(0 comments)

Kwanwoo Sohn

|

February 27, 2020

(0 comments)

$15 for this desk & chair. Contact me at [email protected]

(1 comments)

Yolanda Reinert

|

February 24, 2020

(1 comments)

Selling 42 in Vizio smart tv, futon and massive bean bag. Hit me up @ 7739800790

(0 comments)

Federico Remberg Roma

|

February 19, 2020

(0 comments)

Selling 42 in Vizio smart TV, futon and massive bean bag. Hit me up with offers @ 7739800790

(0 comments)

Federico Remberg Roma

|

February 19, 2020

(0 comments)

Sublease 1 Bathroom in 2b2b, floor 11, Price 1,185$ (negotiable) With the utilities the lease end August,2020. If interested please text me on 8605699280

(0 comments)

XUECHUN YANG

|

February 13, 2020

(0 comments)

Selling this slow juicer by amzchef for $50. It was only used once. Contact [email protected] Here is the original amazon link: https://www.amazon.com/AMZCHEF-Masticating-Extractor-Professional-Vegetable/dp/B07QMVT2NM/ref=sr_1_3?keywords=slow%2Bjuicer%2Bamzchef&qid=1581101613&sr=8-3&th=1

(0 comments)

Luis Eduardo Wright Flosi

|

February 7, 2020

(0 comments)

I am looking for a dog boarder, in this building. Please let me know. I have a 6yo Akita, named Kodiak. Well-behaved, potty-trained, doesn't chew/bark/whine. Very low maintenance. email me directly— [email protected]

(0 comments)

Josalyn Filkins

|

February 4, 2020

(0 comments)

Hi, I am selling these stuff, prices are on the pictures. reply here or text me 7738293302

(1 comments)

Abdulrahman Alahmar

|

February 2, 2020

(1 comments)

***Furniture for Sale*** High quality, well-maintained items Queen-Sized Memory Foam Bed-- $150 Office Desk-- $50 Office Desk Chair x 2 -- $40 each Cabinet x2 -- $40 each

(4 comments)

Richard zhang

|

February 1, 2020

(4 comments)

SUBLEASE 1-BEDROOM available March 1, 2020: $1,493 for 6 months to lease duration (9/8/2020) with option to renew. 2nd Floor right across from the Laundry Room. If interested, please contact me at 513-659-3591 or email [email protected]. Thanks.

(0 comments)

David DiLoreto

|

January 30, 2020

(0 comments)

Zinus Queen size bed frame available for $100 at APT 1912. It has been meticulously dismantled and kept ready to be picked up. Please note this does not include the mattress and needs to be picked up in the next two days. Feel free to drop me a message at 480-628-6416 if interested.

(0 comments)

Mridul Reddy

|

January 29, 2020

(0 comments)

Sublease Studio, 1 Bathroom,floor 5 Size:555 Sq Ft , Price 1,500$ With the utilities the lease end November 25,2020. If interested please text me on 773-829-3302

(0 comments)

Abdulrahman Alahmar

|

January 27, 2020

(0 comments)

2 bed 2 bath sublease. 8th floor view at the grant park and lake michigan, corner unit north and east view. lease ends July 6th 2020. rate : 2,460$ That's with utilities. if interested and for more information please text me on 773-829-3302

(0 comments)

Abdulrahman Alahmar

|

January 27, 2020

(0 comments)

*ITEMS FOR SALE* I'm moving out at the end of the month and I'm selling a few things. Couch $190, Queen size bed frame $100, 2 White Chairs $50, White Table $20. Everything is in great condition, only used for 1 year. Thank you!

(1 comments)

Julia Magalhaes

|

January 18, 2020

(1 comments)

Selling 65 Inch 4K LG TV. Excellent condition. LG 65UH6030-65-Inch 4K UHD Smart LED TV w/webOS 3.0 Flat Wall Mount Bundle Includes TV, Flat Wall Mount Ultimate and 6 Outlet Power Strip with Dual USB Port Excellent condition. Retails for over $1000. Selling only $450 Check out the link: https://www.walmart.com/ip/TV-webOS-Screen-Essential-UHD-Accessory-4K-w-Outlet-USB-65-Inch-Bundle-Ports-LED-includes-Cleaning-TV-65UH6030-Smart-Cables-Strip-2-3-0-6-Kit-HDMI-LG/104582817 Call Email or text. 248-703-9470 14th floor

(0 comments)

Raji

|

January 14, 2020

(0 comments)

I'm moving out the end of this month and have ITEMS FOR SALE. Study table- $200, Chair- $100, Side table- $15, Hanging shelves- $25, Simmons mattress queen size with box spring- $500, Floor mirror- $50, 4 seats dining table- $150, Loveseat- $200, Coffee table- $35, TV stand- $50, LG smart TV 43" LED 2160p Smart 4k UHD- $150. Email: [email protected]. Accept offers! Thank you!

(2 comments)

Kannapat Narasuwan

|

January 10, 2020

(2 comments)

The pictures didn't upload right on the last post so here are the pictures of the items! Thank you.

(0 comments)

Kannapat Narasuwan

|

January 10, 2020

(0 comments)

My 1bd apartment is available for a short sublease starting February 1st, running through February 26th. Please email me at devlindeanna@gmail.com if you or someone you know is interested. Thank you!

(0 comments)

Deanna Devlin

|

January 9, 2020

(0 comments)

*ITEMS FOR SALE* I'm moving very soon and have a few items for sale. Christmas tree- $100 (OBO) Leaning desk/bookshelf- $175 (OBO) Side tables- $50 (OBO) Ikea bookshelf- $40 (OBO) Email [email protected]. Thank you!

(2 comments)

Funmi Okuboyejo

|

January 7, 2020

(2 comments)

More pictures from last post... Family moving out and selling all furniture and stuff! All used for only 4 months. - 2 Sofa-bed ($50.00 each one) - TV Stand (65.00) - TV Toshiba 43" Class LED 2160p Smart 4K UHD with HDR Fire tv Edition ($120.00) - 2 Dinning tables set with 4 chairs each set ($85.00) - Bed queen size with matress and frame ($250.00) -3 Twin bed with frama and matress ($90.00 each one) - Kidskraft toy kitchen (wood) with microwave, regriferator, dishwaher, oven ($80.00) - Fisher Price Booster seat ($18.00) - Trash can 13 galon ($10.00) - 2 Trash can small - pedal bin- ($5.00) - Toaster ($6.00) - Ironing board ($5.00) - Humidifier Pureguardian Ultrassonic 1 gallon - 25.00 - Humidifier Pureguardian Ultrassonic 0.23 gallon 15.00 - plates, bowls, pans, friers, cups, mugs, kitchen utensils, broom, etc Apt 2101 Text us at 312 6979045 or WhattsApp +5511992163175 Ana or Luiz email [email protected]

(0 comments)

LUIZ IMAI

|

January 2, 2020

(0 comments)

Family moving out and selling all furniture and stuff! All used for only 4 months. - 2 Sofa-bed ($50.00 each one) - TV Stand (65.00) - TV Toshiba 43" Class LED 2160p Smart 4K UHD with HDR Fire tv Edition ($120.00) - 2 Dinning tables set with 4 chairs each set ($85.00) - Bed queen size with matress and frame ($250.00) -3 Twin bed with frama and matress ($90.00 each one) - Kidskraft toy kitchen (wood) with microwave, regriferator, dishwaher, oven ($80.00) - Fisher Price Booster seat ($18.00) - Trash can 13 galon ($10.00) - 2 Trash can small - pedal bin- ($5.00) - Toaster ($6.00) - Ironing board ($5.00) - Humidifier Pureguardian Ultrassonic 1 gallon - 25.00 - Humidifier Pureguardian Ultrassonic 0.23 gallon 15.00 - plates, bowls, pans, friers, cups, mugs, kitchen utensils, broom, etc Apt 2101 Text us at 312 6979045 or WhattsApp +5511992163175 Ana or Luiz email [email protected] (More photos on next post)

(0 comments)

LUIZ IMAI

|

January 2, 2020

(0 comments)

1 bed 1 bath sublease on 19th floor corner unit with lake view and grant park available beginning January 28th with current lease running till July 6th 2020 with an option to extend. $1,830 per month including rent, internet and cable TV. I can leave the unit fully furnished as it is or remove the furniture completely and am flexible with dates. For more information please text me on 480-628-6416

(0 comments)

Mridul Reddy

|

December 31, 2019

(0 comments)

Emergency and must move - selling sofa bed (from Ashley furniture), new bed, and coffee table all for 500! Please call or text (615)336-7722. Can pick up this weekend.

(0 comments)

Rachael Jacobs

|

December 18, 2019

(0 comments)

Hello. Looking for someone to take over my studio. The lease is from December 1st to September 21st. The rent is 1405 base fee + 70 utilities. My unit is 207. Contact me: [email protected]

(0 comments)

Yunying Huang

|

December 16, 2019

(0 comments)

Hello everyone, I am subleasing my studio apartment for move in effective asap through March 31st with option to renew the lease. The studio is 555 sqft with an 07 layout--more on the convertible side of layout. West facing windows on the 4th floor (amazing views of sunsets and outside). Base rent is 1,364 + 70$ bundle service fee. Tenant will pay electricity. I am open and flexible with my schedule for those interested in seeing the space. Also, I am open to negotiations. Reason for moving: moving in with partner Please forward this to any you know looking to sublease. Contact: Email: [email protected] Best, Malik

(0 comments)

Malik Scott

|

December 11, 2019

(0 comments)

Hello, I am looking for a cat-lover in the building who will be here over the holidays and come to my unit to check on/feed/play with my kitten on dec 24th, 25th and 26th. He's a sweetheart, and needs food, cuddles and playtime. I can discuss payment. Please text me 630-853-3922 if you would be interested in helping me out. Thanks!

(0 comments)

Sahrish Zaman

|

December 11, 2019

(0 comments)

Hi All, I'm moving at the end of December and selling my TV stand (photos)- $40 In great condition, only used for 2 years. It can hold a 42"-55" TV. Top glass is 58" L x 21" H. All glass is removable for easy moving. If anyone's interested, please text me (630) 621-7122

(0 comments)

Jessica Mathers

|

December 10, 2019

(0 comments)

Sublease Studio, 1 Bathroom,floor 5 Size:555 Sq Ft , Price 1,500$ available 1/1/2020 the lease end November 25,2020. Furniture are included (TV, two beds, 2 desks ,2 chairs, kitchen utilities and other stuff) If interested please text me on 773-829-3302

(0 comments)

Abdulrahman Alahmar

|

December 10, 2019

(0 comments)

2 bed 2 bath sublease. 8th floor view at the grant park and lake michigan, corner unit north and east view. lease ends July 6th 2020. rate : 2,640$. available by the end of January. if interested and for more information please text me on 773-829-3302

(0 comments)

Abdulrahman Alahmar

|

December 10, 2019

(0 comments)

My 1bd apartment is available for a short sublease starting February 1st, running through February 26th. Please email me at devlindeanna@gmail.com if you or someone you know is interested. Thank you!

(0 comments)

Deanna Devlin

|

December 9, 2019

(0 comments)

Hi all! I'm currently in Hamilton the musical. We close January 5th and I'll be moving out shortly after. Management is giving me a hard time about pro-rating my stay, so I'm looking for a sublet for a few weeks in January. I'll be taking almost all of my belongings with me, but will for sure be leaving my full mattress which can be taken by the sublet. Thanks in advance for any advances you have. Best, Sandra Okuboyejo

(1 comments)

Funmi Okuboyejo

|

December 6, 2019

(1 comments)

Does anyone have a box fan I could borrow for 2 nights?? I have my little brother in town and he can't sleep without a fan..thanks!!

(0 comments)

Tyler Warden

|

December 5, 2019

(0 comments)

Selling Sony 46in HDTV KDL46EX710 ($75) Contact my cell if interested; (440) 539-8389

(0 comments)

Collin Zevchik

|

December 3, 2019

(0 comments)

Selling this bean bag chair bought in September. As good as new, haven't used it much. Reason for selling: Buying a smaller one. Amazon Sofa Sack - Plush Ultra Soft Bean... https://www.amazon.com/dp/B019OGSXBS?ref=ppx_pop_mob_ap_share Price: 85$

(1 comments)

Ankita Shetty

|

November 16, 2019

(1 comments)

Hi! This is Hugo from apt 1011. I have an extra free ticket to see Frozen 2 at Navy Pier Monday night at 7pm. If anyone's interested, please contact me in (773) 470-5397. Thanks!

(0 comments)

Hugo Nugraha

|

November 14, 2019

(0 comments)

If anyone needs a dog sitter/dog walker, I'll do it for really cheap. Available on weekday evenings and weekends (with advance notice). Feel free to text me @ 248-924-5398. - Will

(0 comments)

Kwanwoo Sohn

|

November 12, 2019

(0 comments)

Selling small items(office chair, facial steamer, mini flat iron, rug) at a great discount. Prices are labeled in the picture. Let me know if you are interested. 312-208-7310

(0 comments)

Yiwei Xin

|

November 11, 2019

(0 comments)

In the post right below this I forgot to include the pic of the table and chairs. 100$ asking, 215-989-2802

(1 comments)

Alex Shaw

|

November 11, 2019

(1 comments)

Selling or giving away the following, text me at 215-989-2802. 0Table and chairs ($100). See attached picture -Huge set of weights, with both 1inch and 2 inch collars. Have the handles for them too. Want $100 (would cost like 400+) 8x 10lbs (1 inch plates) 4x 5lbs (1 inch plates) 8x 2.5lbs (1 inch plates) 4x25 lbs (2 inch plates) 4x10 lbs (2 inch plates) 4x5 lbs (2 inch plates) 4x2.5 lbs (2 inch plates) Tv Stand (free) https://www.amazon.com/dp/B00UAHW4PW/ref=twister_B07HLC4BYS?_encoding=UTF8&psc=1

(0 comments)

Alex Shaw

|

November 11, 2019

(0 comments)

Selling robot vacuum in good condition for $150 or best offer. Bought for $190 Text me at 312-468-3102 Amazon link for item description https://smile.amazon.com/gp/product/B077HW9XM7/ref=ppx_yo_dt_b_search_asin_title?ie=UTF8&psc=1

(0 comments)

Yu chuan Lin

|

November 3, 2019

(0 comments)

Hi! I will be moving at the end of the month and I am selling a few items! Couch (pulls out into bed. I probably sat on the couch less than 40 times and the pull out was slept in once) $400, tv stand $50, bed frame $80. Let me know if you are interested in buying! 203-253-9098

(0 comments)

Haley Anderson

|

November 2, 2019

(0 comments)

Great looking Gray Rug "Porch & Den Iris Trellis Stripes Grey Rug" 6'7 x 9 14th floor. $50 firm. Great price 248-703-9470

(0 comments)

Raji

|

October 27, 2019

(0 comments)

Hello, is anyone selling a vacuum and / or floor lamp?

(0 comments)

Alexandra Young

|

October 14, 2019

(0 comments)

Moving out sale : TV(Samsung UN55NU8000FXZA Flat 55" 4K UHD 8 Series Smart LED TV) 600$, Bed, Mattress, frame, Side table 400$, Desk 60$, Chair 40$, Monitor L(LG 32MA70HY-P 32-Inch Full HD IPS Monitor with Display Port and HDMI Inputs) 90$ Message me on Facebook at https://www.facebook.com/mittalthoria86 for direct messaging.

(1 comments)

Mittalben Patel

|

October 9, 2019

(1 comments)

Any one selling shelves or/and rugs? Please let me know. Email: [email protected] Thanks!

(1 comments)

Ziwei Yang

|

September 29, 2019

(1 comments)

Hello, 2 bd apartment is for sublease. Would be available to move in, in Dec 2019. The contract is through April 2020. please text me if interested: Huda - 3124791930

(0 comments)

Huda Matbuli

|

September 28, 2019

(0 comments)

Does anyone have a cleaning service they can recommend? Only looking for a once a month or so clean for my studio. Thanks!

(1 comments)

Alexandra Van Dine

|

September 23, 2019

(1 comments)

Moving out sale: full size bed (including mattress, box, and frame): $180, TV stand: $25, various other items (kitchen ware, vacuum, trash cans) for best offer. Text me at 4408321524 for pictures or if you want to see anything.

(0 comments)

Sajni Patel

|

September 17, 2019

(0 comments)

Free to a good home! I'm moving back east and do not need to bring this leather sofa with me. Free to the first taker. Some other furniture available if interested. Text or call Ted at (443)386 3590

(1 comments)

Edward Nolan

|

September 14, 2019

(1 comments)

Additional items for move out sale. Black end table: $10, office chair $20, two black metal foldable chairs $10 each, glassware set $10, dinner set $10

(1 comments)

Hira Khaliq

|

September 11, 2019

(1 comments)

Moving out sale! Bed: $75 obo, nightstand: $10, coffee table $15, two stand up lamps $10 each. Please feel free to text me at (571) 992-9958! Items will be available on September 18th.

(0 comments)

Hira Khaliq

|

September 10, 2019

(0 comments)

Hello! I'm looking to sell this couch (without the pillows); its gently used but still in great condition. Comfortably fits 3 people, measures roughly 88in x 33in x 32in. Price is negotiable; text me at 763.464.3861 if you're interested.

(0 comments)

Jenna Cervantes

|

September 5, 2019

(0 comments)

Hello! I just moved in and am looking for an office/computer desk and a couple of storage/dressers. If you're selling, kindly contact me at [email protected] or 504-346-9408. Thank you!

(0 comments)

Prassanth Lakshminarasimhan

|

September 5, 2019

(0 comments)

Hello! My girlfriend and I are graduate school students and live in the building. We love dogs and are willing to offer anyone in the building that needs dog sitting/walking for a negotiable fee. Please email me if you are interested or have questions! Thanks. [email protected]

(0 comments)

Michael Feijoo

|

September 1, 2019

(0 comments)

Hi all, I am looking for a sofa bed, a couch, bar stools and a table for 2 or 4. Let me know if anyone is up for a sale. Shoot me an email on [email protected].. Thanks :)

(0 comments)

Hira Imam

|

August 29, 2019

(0 comments)

Hello everyone, Im moving in aug 30, no furniture at all.... anything you want to sell, please send an e-mail.... [email protected] I will be at the building to see my apartment only aug 31, 31 sept 1 and 2... then I will come back on sept 11.

(1 comments)

LUIZ IMAI

|

August 21, 2019

(1 comments)

Hi, if anyone has tv stands for sale text me 773.577.7991 thanks

(1 comments)

Johnny An

|

August 21, 2019

(1 comments)

*Moving Sale* Few items left. Bed frame ($100), Full Size Memory Foam mattress ($50), Computer Desk chair ($60), Shower rack pole ($10), Shoe Rack ($20). Text 847-951-2365

(0 comments)

Kathryn Choi

|

August 19, 2019

(0 comments)

Studio apartment available for sublease starting in mid- September through Dec. 27. Please contact me if you are interested. [email protected].

(2 comments)

Briana Portes

|

August 17, 2019

(2 comments)

Hello, I am a medical student who lives in the building my lease ends at the end of September and I am looking for an apt to sublease for the month of October. Let me know if anyone is interested. You can contact me at 4408321524.

(0 comments)

Sajni Patel

|

August 16, 2019

(0 comments)

Is anyone selling a queen sized box spring ?

(0 comments)

Benazir Ali

|

August 15, 2019

(0 comments)

Hello Neighbors!! I am selling the following items. The lamp sets are going for $10, the floor lamp is $5 and the bike is $50. Let me know if you are interested, [email protected].

(2 comments)

Briana Portes

|

August 14, 2019

(2 comments)

*Moving Sale* Few items left. Bed frame ($100), Full Size Memory Foam mattress ($50), Shower Rack ($10), Shoe Rack ($10 each), TV console/bookshelf ($10). All items negotiable. Please txt 847-951-2365.

(0 comments)

Kathryn Choi

|

August 14, 2019

(0 comments)

Anyone interested in a bookshelf, a wine rack table, or a ninja blender? Price negotiable. If interested, text 219-614-8045

(0 comments)

Carolina Herrera

|

August 13, 2019

(0 comments)

Selling a expandable wooden dinning room table with 4 chairs ($120 or best offer). When collapsed, it seats 4 (at 55 inches), and when expanded it seats 8 (at 87 inches long). Text at 408-828-2041 if interested!

(1 comments)

Deanna Devlin

|

August 13, 2019

(1 comments)

Items for sell (price down) : Twin Bed Mattress $10 (IKEA MORGEDAL) TV 19" $5 (INSIGNA NS-19E310NA15) Contact me at 415-806-0641 or [email protected] if you are interested.

(0 comments)

Kazumi Seki

|

August 13, 2019

(0 comments)

*Moving Sale* Full size mattress ($50), Futon sofa bed ($50), 2 shower rack pole ($10 each), shoe rack ($10 each), tv console/bookshelf ($10). All prices negotiable. Txt 847-951-2365.

(1 comments)

Kathryn Choi

|

August 7, 2019

(1 comments)

Hi everyone! I am looking to find a chair/office chair-Nothing too big. If anyone is selling one let me know! Text me at 989-341-3682

(0 comments)

Humza Baig

|

August 7, 2019

(0 comments)

Hi all, I'm looking for a wide dresser, if anyone is looking to sell! Please email me at [email protected] or text 828-244-7663. Thanks, Alex

(0 comments)

Alexandra Young

|

August 7, 2019

(0 comments)

Hello everyone! My lease ends on September 19th and I am looking for a place to sublet from then on until the end of October. I am a medical student and will be moving out of the state after October and it's been extremely tough to find a place for one month. Please let me know if anyone has anything available! Thank you in advance!

(1 comments)

Hira Khaliq

|

August 6, 2019

(1 comments)

*Moving Sale* I am moving out in the next week and selling the following items: Futon sofa/bed ($80), Queen size bed frame ($80), Full size mattress ($50), Table Set w/ 2 chairs ($80), 2 desks ($20 each), shelf/stand ($20), 2 bath tower racks shower caddy ($10 each), kitchen pots/ pans ($5 each), and dishes/utensils ($5 each). All items negotiable. Please text 847-951-2365.

(0 comments)

Kathryn Choi

|

August 4, 2019

(0 comments)

Hello, I will move out my apartment on August 25. Moving sale: twin bed mattress / table / 4chairs / 12 cube-organizer / TV / yoga mat There are some free stuff as well. Please txt or email me at 4158060641 or [email protected] if you are interested. ???? Details are below ???? [Moving Sale] ****** Twin Bed Mattress $20 ***** (IKEA MORGEDAL) https://www.ikea.com/us/en/catalog/products/70277392/ ****** Table $15 ***** (IKEA MELLTORP) https://www.ikea.com/us/en/catalog/products/S19011777/?query=MELLTORP&icid=iba|us|unbxdsuggestion|201811132211556208_1 ****** 4 chairs $5 ***** (IKEA ADDE) https://www.ikea.com/us/en/catalog/products/10219178/ ****** 12-cube organizer $15 ***** (Target) https://www.target.com/p/12-cube-organizer-shelf-white-11-room-essentials-153/-/A-52104680?ref=tgt_adv_XS000000&AFID=google_pla_df&fndsrc=tgtao&CPNG=PLA_Storage%2BOrganization%2BShopping_Brand&adgroup=SC_Storage%2BOrganization&LID=700000001170770pgs&network=g&device=c&location=9021710&ds_rl=1246978&ds_rl=1247068&ds_rl=1246978&gclid=CjwKCAjw1f_pBRAEEiwApp0JKE8LcGtNtOq1Se3luUtfZUnH7kE0817jHOianQQSMwWQmzTFvehOOhoCfYsQAvD_BwE&gclsrc=aw.ds ****** TV 19" $10 ***** (INSIGNA NS-19E310NA15) https://www.bestbuy.com/site/insignia-19-class-18-1-2-diag--led-720p-hdtv/2799043.p?skuId=2799043 ****** Yoga mat $5 ***** GAIAM Premium 2 color yoga mats (6mm) color: midnight blues https://www.gaiam.com/collections/yoga-mats/products/05-59141_2?variant=32665647169 ****** $1 ****** Stackable letter trays mini drawer organizer (Sterilite 3 Drawer Small Countertop Unit White with Clear Drawers) Plastic baskets [Free] Vat Art materials Envelopes Bloom etc.

(0 comments)

Kazumi Seki

|

July 30, 2019

(0 comments)

Hello, We are looking to sublease our one bedroom apartment from the start of September through end of December 2019. We are willing to start the sublease earlier (so this August) and our lease technically runs until January 7th 2020, so the subleasee could also stay through early January. Please contact me at [email protected] if interested. Many thanks!

(0 comments)

Paige Pope

|

July 28, 2019

(0 comments)

*Moving Sale* I am moving out in the next week and selling the following items: Futon sofa/bed ($80), Queen size bed frame ($80), Queen size Mattress ($200), Full size mattress ($50), Table Set w/ 2 chairs ($80), 2 desks ($20 each), shelf/stand ($20), 2 bath tower racks ($20 each). Willing to negotiate. Please text 847-951-2365.

(0 comments)

Kathryn Choi

|

July 27, 2019

(0 comments)

https://offerup.co/profile/as1102. Selling my couch, fullsize bedframe/mattress, armchair, shelves, etc. please click on the link to see pictures.

(1 comments)

Angela Suh

|

July 24, 2019

(1 comments)

selling everything. please go to https://offerup.co/profile/as1102 to see. Thank you.

(0 comments)

Angela Suh

|

July 24, 2019

(0 comments)

Selling everything... I am moving our of state and I am selling kind size bed, 4 place dinning table, couch, coffee table, corner table with wine rack, bookshelf, TV, ninja blender. I am also selling a variety of items for $1: water bottle ice trays, oil dispenser, sugar shaker, plastic cups, candle holder, paper tower holder, plastic pitcher, chips clips. And items for $5: floor lamps, pizza stone, planter. Call or text me at 219-614-8045 for pictures or questions. Thanks

(0 comments)

Carolina Herrera

|

July 20, 2019

(0 comments)

Hello everyone! I am moving out of state in August and I am selling most of my apt stuff: $50 tag items -> bookshelf, ninja blender, TV, couch, corner table $10 tag items-> coffee table, fan (avail Aug 16th) $5 tag items -> floor lamp, pizza stone, planter $2 items > cup cake tray, plastic cups, trash cans, 2 pier1 cushions $1 items -> oil dispenser, water bottle ice trays(2), paper tower holder, sugar dispenser, plastic pitcher I am also selling a 4 place dining set (value 1300) for $400 and a king size bed with its mattress (avail Aug 16th). Feel free to call me or text me for pictures or questions. Cell 219-614-8045. Thanks

(1 comments)

Carolina Herrera

|

July 20, 2019

(1 comments)

Hi all - I'm looking to sell my 3 seat couch (very comfy and has a nice quartz color). Open to selling the love seat that comes along with it too. Please text at 651-354-4842 for pictures and pricing (negotiable). Thanks!

(0 comments)

Yemissrach Melka

|

July 19, 2019

(0 comments)

*Moving Sale* Hey Park Michigan friends/neighbors, I am selling one Signature Sleep Full size Mattress ($70), one Queen size Mattress ($90), and one Sleep Master 5" Gel Memory foam topper ($200). The Queen mattress and the topper are in Very Excellent condition, while the Full size has some normal wear. Open to negotiate. Feel free to text me if interested: 847-951-2365. Thanks!!

(1 comments)

Kathryn Choi

|

July 18, 2019

(1 comments)

Hello, looking for a wide dresser, if anyone is selling! Email is [email protected]

(0 comments)

Alexandra Young

|

July 15, 2019

(0 comments)

Moving out sale:air fryer $20, blender $10, electric kettle $3, ikea full size bed + side table $80, (pick up between 7/27-7/31), full size mattress $30 (pick up between 7/27-7/31), Ikea lamp $8, kitchen knife set $10, hp jet ink printer $15, light weight wall mirror $2, text me if you are interested. 608-422-2213. Thanks!

(2 comments)

Qing Gao

|

July 14, 2019

(2 comments)

Moving out sale: - TV $30 - Office Chair $10 - Study Desk $20 -Shoe rack $15 - Table lamp $5 - LED lamp $10 - Stand mirror $15 - Big couch--------free for pick up and more stuff, text me 3124930557

(1 comments)

Boer Ren

|

July 11, 2019

(1 comments)

Hi everyone, I am looking to sell a full size bedframe, desk, recliner/chair, bar stools, coffee tables from ikea. please email me for pictures if you are interested. [email protected]. I move out end of July so I am looking to sell ASAP.

(0 comments)

Angela Suh

|

July 11, 2019

(0 comments)

Moved in to the building not long ago, looking to buy a couch and a vacuum. Text me 773 980 0790

(0 comments)

Federico Remberg Roma

|

July 9, 2019

(0 comments)

Hello, I am moving out of my apartment this Friday, July 12 and am selling a brown futon for $75 or best offer (willing to negotiate price). I am trying to get rid of it as soon as possible; please contact me if interested and for pictures - #708-341-6920.

(0 comments)

Krista Policchio

|

July 9, 2019

(0 comments)

Hi! I'm looking for someone to take over my lease starting Oct 1st, running through the end of February. Please email me at [email protected] if you or someone you know is interested. Thank you!

(0 comments)

Deanna Devlin

|

July 9, 2019

(0 comments)

Hey there! I have a friend who's looking to take over a lease. She's able to move in ASAP. Hoping to find something until January. Email me if you have a lead. [email protected]. Thank you!

(0 comments)

Funmi Okuboyejo

|

July 8, 2019

(0 comments)

Hi, my lease is over on 8/4. I'm looking to sublease for a month 8/4 to 9/4 flexible. Please email me [email protected] or text 773.577.7991

(0 comments)

Johnny An

|

July 3, 2019

(0 comments)

Hi Everyone, I am moving out at the end of June and I am selling some furniture. Full/Double size bed (mattress, box spring, bed frame), dresser, a number of lamps, and a small dining table from IKEA are all available. Please contact: [email protected] for pictures.

(0 comments)

Sankhya Amaravadi

|

June 17, 2019

(0 comments)

My lease expires in beginning of October and I'm looking for a sublease from October to end of December. I'm a medical student studying for my boards so anything would be highly appreciated. contact: [email protected]

(0 comments)

Umara Khalid

|

June 15, 2019

(0 comments)

I'm in the market for a dog walker for my doggo - he's a 4 year-old lab mix rescue who is the sweetest pup in the whole wide world and just wants to love you (not biased or anything!). It will not be regular, but the days I'm on late shifts at the hospital. Let me know if anyone is interested! [email protected]

(0 comments)

Samantha Hay

|

June 11, 2019

(0 comments)

Hi everyone! Moving Sale! Extendable Dining Table ($45) / Sofa Bed ($50) / Cat Tree ($20) / Workout Bench ($20). If you are interested in , please text me 516-713-7490 for pictures. Thanks.

(1 comments)

Xiang Li

|

June 11, 2019

(1 comments)

Hi everyone! I'm looking to buy a queen size bed frame. Let me know if you've got one. Thanks! You can email me at [email protected]

(0 comments)

Daniel Wong

|

June 8, 2019

(0 comments)

Hello! I am moving out of 1301 in two weeks and have a dew pieces of furniture that need to go: a leather recliner, tv stand, yellow and blue stained dresser and matching bedside table, two tan ottomans. Lete know if you're interested! [email protected]

(1 comments)

Angela Robertson

|

May 26, 2019

(1 comments)

I'm getting rid of the following books, no charge. If you'd like one, please reply and I can give one to you by end of day Friday: https://bit.ly/2Wweg9e

(0 comments)

Jonathan Armsterd

|

May 25, 2019

(0 comments)

Hi All, I am selling a hightop table with four chairs. Text me if interested 6107612293 or email [email protected]. I can share photos. I'm in a studio and it fits nicely between the kitchen area and the living space. The Table is all wood and the seats are wood with leather seats. It's very nice, and in good condition. Thank you, Julie

(0 comments)

Julie Mongan

|

May 16, 2019

(0 comments)

Hello everyone! I am moving out and have a number of items for sale. If you are interested in anything, preferably message me on 312-478-1516, or email me at [email protected] for photos and pricing. These items have to go quickly so I'm flexible with prices :). Kitchen: - Rice cooker - Electric water kettle - Single serve coffee maker - Set of large plates, small plates, bowls (4 of each) - Set of stainless steel cutlery: large spoons, small spoons, large forks, small forks, knives (4 of each) - Cutlery organizer (plastic) - 3 cutting knives - Set of ladles and spatula (plastic) - Set of large plastic cups, small plastic cups (2 of each) - Set of coffee mugs (4 small, 1 large) - 1 frying pan, 1 saucepan, 1 pot - 2 cutting boards (1 plastic, 1 wood) - Drying rack (plastic) Furniture: - Brown chamois sofa (3 seater) (IKEA) - Black wooden coffee table (few dents) (46in x 30in) (IKEA) - Black wooden TV stand (40in x 16in) (IKEA) - Black wooden desk with shelves (47in x 20in) (IKEA) - Black mesh office swivel chair - Clear plastic set of 3 drawers - Queen size mattress and stand (IKEA) - Desk lamp with outlet and usb port (plastic) - Honeywell 15in fan (black) (HT-908 model) Miscellaneous: - Laundry basket (white plastic) - Large kitchen trash can (white plastic) - Small trash can (black plastic) - Small bathroom trash can (grey plastic) - Small dust devil vacuum - Large Hoover vacuum (Windtunnel 3 Pro) - Iron - Set of 10lbs dumbbells

(1 comments)

Bader Abbas

|

May 14, 2019

(1 comments)

Hey everyone! Looking to buy a TV or a TV stand if anyone is selling. Prefer 43"-55" and a long enough stand. Email me at [email protected] Thank you!

(0 comments)

Humza Baig

|

May 10, 2019

(0 comments)

If anyone is looking for selling a recliner sofa/couch or futon, please reach out. Moving in June.. email: [email protected]

(0 comments)

MALVIKA KAUL

|

May 8, 2019

(0 comments)

Hi All, looking to purchase a couch if there are any going up for sale within the next month. I move in, in June, so will be on the hunt! Feel free to email me at [email protected] .

(0 comments)

Alexandra Young

|

May 7, 2019

(0 comments)

Moving sale in 2101 Two perfect office desks $20 each Gaming Chair $60 (Amazon $150) Office Chair $10 Queen size box spring $50 (Mattress Firm $250) Text/Call 434-270-2344 or Email: [email protected]

(1 comments)

Renfei Luo

|

April 29, 2019

(1 comments)

Moving sale in unit 1012!! 1.5-position Folding Floor Chair $20 (Amazon Prize $73.99) https://www.amazon.com/gp/product/B01N0GN79G/ref=ppx_yo_dt_b_asin_title_o00_s00?ie=UTF8&psc=1 2.Revolving Chair Black $15 (Amazon Price $57,79) https://www.amazon.com/AmazonBasics-HL-002565-Mid-Back-Mesh-Chair/dp/B00IIFW2L4/ref=sr_1_5?keywords=revolving+chair&qid=1556293020&s=gateway&sr=8-5 3.Computer Desk Black $20 (Original Target Price $62.99) 4.Signature Sleep Mattress, 8 Inch Coil Mattress, Queen Size $40 (Amazon Price $218.2) https://www.amazon.com/Signature-Sleep-Mattress-Hybrid-Reversible/dp/B005A4OP8Y/ref=sr_1_4?crid=3W0A0O1Z826O5&keywords=mattress%2Bsignature%2Bsleep%2Bqueen&qid=1556292794&s=gateway&sprefix=mattress%2Bsignature%2Caps%2C150&sr=8-4&th=1 5.Queen Size bed frame $20 Also subleasing the 1 bedroom (1012) from the beginning of July Feel free to ask for more details or check out in person. You can email at [email protected] or text(call) 3127743714

(0 comments)

Yiqian Lin

|

April 26, 2019

(0 comments)

Moving sale: mirrored wine cabinet $80, mirrored night stand $50, 4 place dinning table $500, 31"x40" mirror $20, 23" tall planter $10, 71"x30" bookcase $50, small heater $12, glass scale $8. Feel free to come and check them out in person or request more info via text 219-614-8045 or email [email protected]. Thanks

(0 comments)

Carolina Herrera

|

April 24, 2019

(0 comments)

Moving Sale: IKEA MALM 2 drawer FULL size bed frame. Color: Black-Brown, includes slats. Mildly used and will disassemble. Asking $120 OBO. Current IKEA price is $274. Feel free to ask for photos or check out in person. You can email at [email protected] or text (407) 405-1758.

(0 comments)

Ifad Noor

|

April 18, 2019

(0 comments)

MOVING SALE!: 1)standing lamp $5 2)computer chair $15 3)two small trash bins, $4/each 4)a small heater, $8 5)31" Oscillating Tower Fan Black - Holmes, bought last August, $15 6)illumage touch permanent hair reduction system, only used for 7 times, the head is replaceble, original $440, selling at $280 7) two routers, $15 each FEEL FREE TO ASK FOR MORE DETALS&PHOTOS! You can also come to check them out in person. You can reach me at 3128068606 and [email protected]. Thank you.

(0 comments)

Siqi Wu

|

April 17, 2019

(0 comments)

Hello, for sale: 1) PS3 + Move set + 4 games for sale. All three for just $110 (well maintained) 2) sharp speaker (Bluetooth, radio, iPhone/iPad compatible, etc) $50 3) Amazonbasic wireless headphone $20 If interested plz reach me on 312-912-3171. Thanks

(0 comments)

Nader Amiran

|

April 13, 2019

(0 comments)

Moving sale in unit 410! I'm selling a grey sofa, 5 shelf bookcase, 55 inch TV, 32 inch TV, and a lightly used bike. [email protected] or text me 954-298-4931

(1 comments)

Christal Richards

|

April 1, 2019

(1 comments)

Anyone subleasing a studio/ 1 bedroom may - aug. Email: [email protected]

(0 comments)

Umara Khalid

|

March 29, 2019

(0 comments)

Moving Sale unit 312, selling the following items: 1. Black Leather Sectional Sofa 2. Black Leather Automan 3. Two low bar stools Please contact me for more information. [email protected] or 630-728-0312 Thanks, Z

(0 comments)

Zeeshan Tejani

|

March 25, 2019

(0 comments)

Moving Sale in Unit #901 (Now - 4/14) Items for sale: (1) Teal cloth lounge chair (1) Round, dark brown, with black legs, wooden dining table with collapsable sides (2) matching chairs for dining table. Both items are less than one year old. Please email jwri[email protected] or text 708-539-9712 for pictures and pricing

(0 comments)

Jordan Wright

|

March 18, 2019

(0 comments)

Moving Sale in apartment 2612 Selling: 1. light blue sectional sofa, used, needs cleaning. Selling for $200 2. Brown leather chair, like new. $200 3. Two brown leather bar stools, like new. $300 for both 4. Chestnut ladder bookcase with 5 shelves. In good condition. $50 5. Large mixed metallic decorative picture. Like new $250

(0 comments)

Crystal Odoms

|

March 10, 2019

(0 comments)

Moving sale at 502

(3 comments)

Maria Zambrano

|

November 27, 2018

(3 comments)

Hi, I am moving out of city and have following items for sale: 6 drawer dresser $50 Book shelf $20 Bed frame + 8 inch Queen size mattress $150 Skis with poles and shoes $50 4 drawer storage cart $15 Shoe rack $15 Check out below facebook post for photos: https://www.facebook.com/groups/390857047774713/permalink/923262284534184/?sale_post_id=923262284534184 Text me at (980)833-7128 or email me at [email protected] for details.

(2 comments)

Ankit Gupta

|

October 1, 2018

(2 comments)

Hi all, I am moving out and selling following items: 6 drawer dresser $50 Book shelf $20 Bed frame + 8 inch Queen size mattress $150 Skis with poles and shoes $50 4 drawer storage cart $15 Shoe rack $15 Text me at (980)833-7128 or email at [email protected] to buy or for details. Regards, Ankit

(0 comments)

Ankit Gupta

|

October 1, 2018

(0 comments)

got an email about Snap Fitness listed for sale, does it affect any resident membership?

(0 comments)

Jeranan Poosomboon

|

August 17, 2018

(0 comments)

Would it be possible to create another Facebook Group called 'Park Michigan Residents' for tenants to post items for sale?

(1 comments)

Mariannegrace Gumaru

|

August 10, 2018

(1 comments)

Did the laundry card machine get fixed?

(0 comments)

Tyris Maxey

|

August 6, 2018

(0 comments)

hi, I'm wondering when will the delivery notification be available? also, will the guests/visitors system work as usual as well?

(0 comments)

Jeranan Poosomboon

|

August 2, 2018

(0 comments)

The laundry card dispenser has run out of new cards to dispense. Do we know when it will be refilled? Thanks.

(0 comments)

William Graybeal

|

August 1, 2018

(0 comments)

Just received the email regarding upcoming event parking. From what time of day to what time of day is the event rate charged? When does it start and when does it end? Can one interpret from the email that the limited number of discounted stickers is due to the number of the spaces in the parking ramp or LAZ having priority over the residents on the number of spaces available during events hours? Thank You

(0 comments)

Anthony DePaolo

|

July 30, 2018

(0 comments)

I have received package deliveries recently, but did not receive any emails notifying me that they were delivered. When I go to the "Package Delivery" tab under "Concierge" on this site, it shows nothing. The only way I knew they were delivered was by checking the seller's website. Can we please get this fixed?

(0 comments)

Charles Thomason

|

July 10, 2018

(0 comments)

i already make a payment yesterday, and i receive the confirmation email, but i still receive the notice that tell me i'm not pay for the rent, but i check it already, it says i already pay for it.

(0 comments)

Ruoheng Shen

|

July 7, 2018

(0 comments)

hello- anyone else having issues with maintence requests? Today is 8 days since I requested and the status still says "web."

(0 comments)

Candace Carroll

|

July 4, 2018

(0 comments)

Looking for one person to offer moving assistance (3 furniture items) between apartments in our building. Must be comfortable helping move a large couch, bed, etc. Time: 30-60 mins Saturday morning, July 7th. Pay: $50. Thanks!

(0 comments)

Luke Grant

|

July 1, 2018

(0 comments)

For anyone having trouble logging into the Business Center computers, the new password is "pm1212!".

(0 comments)

Mariannegrace Gumaru

|

June 28, 2018

(0 comments)

Where's the place to pay the rent.?

(1 comments)

Peiyuan Li

|

June 21, 2018

(1 comments)